Wow – The bouldering Worldcup and European Championship in Munich was an amazing event. The «Olympiastadium München» is one of my favourite competition venues. The great climbing wall, awesome boulders, the huge and supportive crowd and a great atmosphere make the climbing experience unique. I had been looking forward to this competition since the beginning of the year! With 292 competitors, men and women, this Worldcup has been the biggest in the history of sport climbing so far.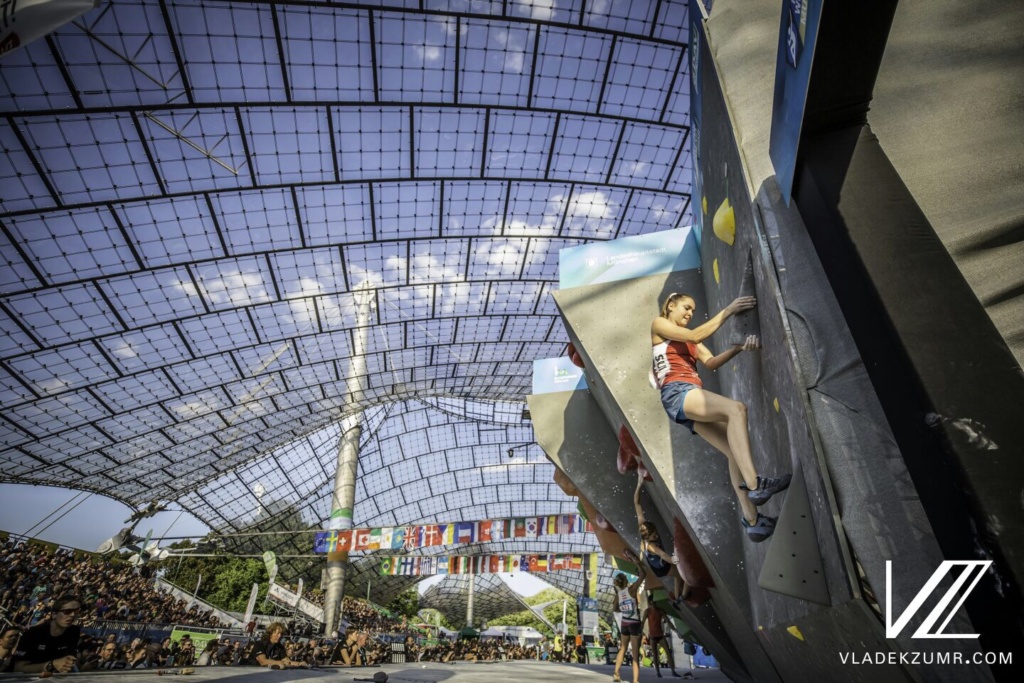 Fortunately, I started quite early in qualification, 13th in my group. Before my start I had a great warm-up session with my coach, what gave me confidence and even more motivation. I felt strong and couldn't wait to finally go out, climb and have fun. The setting was awesome – coordinativ and dynamic moves, balancy slabs, jumps…(video). I topped two problems and fell at the top hold of two others. Right after finishing the last problem and taking off my climbing shoes, I said to myself:
I was focused throughout the whole competition. I tried as hard as I could and did my best until the very last try of the last boulder. I could not have done any better and I enjoyed climbing in front of a cheering crowd so much! No matter what the result will be, I am satisfied with my performance. 
In the end I just sneaked into the semis of the ECH. I was extremely happy about that and psyched to climb once again the following day. After a hard but fun semifinal I ended up on
10th place
with one top in a flash attempt and 3 bonuses in 5 attempts.
After a series of unsatisfying results in Asia, at Swiss Cups and the European Championships in Lead and Speed, this competition gives me strength and confidence for the future. I both started and ended my bouldering worldcup season 2017 with a successful 10th place. I had ups and downs but all in all I had a great time competing and gained a lot of valuable experience. I love being an athlete, doing what I love, travelling around the world, exploring, competing, trying new climbs at comps, training hard and spending time with other climbers. I am very grateful for all the support I receive from my sponsors, family, friends and federation. My motivation is high and I will continue training hard, doing my best and pushing my limits.